The thriving Maxwell Street strip offered a spot for the still-teenaged phenom to hawk his wares. He fell in with local royalty -- Tampa Red and Big Bill Broonzy -- and debuted on wax that same year for the tiny Ora-Nelle logo ("I Just Keep Loving Her") in the company of Jimmy Rogers and guitarist Othum Brown. Walter joined forces with Muddy Waters in 1948; the resulting stylistic tremors of that coupling are still being felt today. Along with Rogers and Baby Face Leroy Foster, this super-confident young aggregation became informally known as the Headhunters. They would saunter into South side clubs, mount the stage, and proceed to calmly "cut the heads" of whomever was booked there that evening.
By 1950, Walter was firmly entrenched as Waters's studio harpist at Chess as well (long after Walter had split the Muddy Waters band, Leonard Chess insisted on his participation on waxings -- why split up an unbeatable combination?). That's how Walter came to record his breakthrough 1952 R chart-topper "Juke" -- the romping instrumental was laid down at the tail end of a Waters session. Suddenly Walter was a star on his own, combining his stunning talents with those of the Aces (guitarists Louis and David Myers and drummer Fred Below) and advancing the conception of blues harmonica another few light years with every session he made for Checker Records.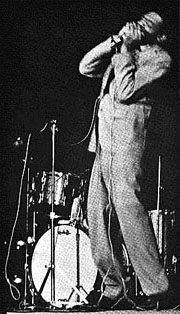 From 1952 to 1958, Walter notched 14 Top Ten hits, including "Sad Hours," "Mean Old World," "Tell Me Mama," "Off the Wall," "Blues with a Feeling," "You're So Fine," a threatening "You Better Watch Yourself," the mournful "Last Night," and a rocking "My Babe" that was Willie Dixon's secularized treatment of the traditional gospel lament "This Train." Throughout his Checker tenure, Walter alternated spine-chilling instrumentals with gritty vocals (he's always been underrated in that department; he wasn't Muddy Waters or the Wolf, but who was?).
Walter utilized the chromatic harp in ways never before envisioned (check out his 1956 free-form instrumental "Teenage Beat," with Robert Jr. Lockwood and Luther Tucker manning the guitars, for proof positive). 1959's determined "Everything Gonna Be Alright" was Walter's last trip to the hit lists; Chicago blues had faded to a commercial non-entity by then unless your name was Jimmy Reed.
Tragically, the '60s saw the harp genius slide steadily into an alcohol-hastened state of unreliability, his once-handsome face becoming a roadmap of scars. In 1964, he toured Great Britain with the Rolling Stones, who clearly had their priorities in order, but his once-prodigious skills were faltering badly. That sad fact was never more obvious than on 1967's disastrous summit meeting of Waters, Bo Diddley, and Walter for Chess as the Super Blues Band; there was nothing super whatsoever about Walter's lame remakes of "My Babe" and "You Don't Love Me."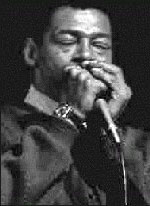 Walter's eternally vicious temper led to his violent undoing in 1968. He was involved in a street fight (apparently on the losing end, judging from the outcome) and died from the incident's after-effects at age 37. His influence remains inescapable to this day -- it's unlikely that a blues harpist exists on the face of this earth who doesn't worship Little Walter. Undiagnosed brain injuries can be deadly and were in Little Walter's case. As most malpractice lawyers in Chicago know, mild brain injuries used to be difficult to diagnose, but today tests can be used to determine a course of treatment.~ Bill Dahl

Biography courtesy of All Music Guide to the Blues - Paperback - 658 pages 2nd edition (1999) Miller Freeman Books; ISBN: 0879305487 - the most comprehensive guide to great blues recordings money can buy. The online version of the All Music Guides may be found at www.allmusic.com
Additional Biographical Info:
It would be safe to say that the Rolling Stones learned a lot from Muddy Waters. One could be tempted to take that statement one step further and say that Mick Jagger learned a lot from Muddy Waters harp player Little Walter. As to who was the greater influence, that ís an argument for some other time. What is presented here is a short bio of a very important Blues original.
Little Walter is considered by many the king of blues harmonica and was probably the first to amplify the instrument. He was the first musician of any kind to purposely use electronic distortion (later Jimi Hendrix would use distortion to change rock'n'roll forever). Little Walter could make his harp sound like a tenor sax. He defined the sound known as Chicago blues harp. As a singer, composer and harmonica genius, Little Walter was arguably the best blues artist produced by the post war Chicago blues movement.
Walter arrived in Chicago from rural Louisiana at the end of WWII, and recorded his first record in 1947 at the age of 17. From the very start Walter paid homage to no tradition other than his own. You night say he did things his way. If there had been influences on the development of his talent, his talent surpassed them by the time he started to record. Right from the beginning Muddy Waters encouraged Walter to develop his talent and he soon became an integral part of Muddy's band. Walterís harp playing is distinctive and instinctive, a perfect compliment to Muddyís powerful vocals and strong beats.
In 1952 Walter left Muddy's band to record on his own. He was backed by guitarists David and Louis Myers and drummer Fred. His first records were for the Checker records. "Juke" was a Number one hit and established Walter and marked him as a performer to be watched. The record launched a string of hits that would last fifteen years starting with the instrumental "Juke" and continuing with songs like "Last Night," "Blues With a Feeling," "Mean Old World," and "Quarter to Twelve."
Between 1952 and 1968, Walter recorded approximately 100 titles for Chess, of which slightly more than half were issued on record. From his very first to his very last record, Little Walter was unique. His place in history is assured for his being one of the first musicians to try electrically amplified blues. No had thought to hold a microphone up to a harp before but it was a lesson no one would ever forget.
Little Walter died in 1968 after sustaining head injuries in a street fight.
Readily available Little Walter releases:
Best Of Little Walter
Blues World Of Little Walter
Confessin' the Blues
Essential Little Walter
Hate To See You Go
His Best
Quarter To Twelve
Super Blues
Blues With A Feeling
The above article was written by Madison Deniro, a Freelance Writer.
---

New! Search results for all of Little Walter's greatest blues harmonica hits at Amazon.com